Sustainability is key to ESCRS. Join us on this important journey.
ESCRS and I are passionate about increasing the sustainability of our shared and individual activities. We and our partners are committed to organising a socially, environmentally, and economically inclusive congress for you.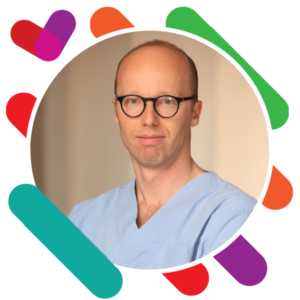 Our "Mission Zero" vision is to develop events with zero waste to landfills and zero net carbon emissions that are a role model for social and environmental responsibility.
In 2022, we hosted an on-site sustainability programme, sent just 3.4% of waste to landfill, recycled 64% of waste, donated remaining food to a local Milan food security charity, reduced carbon emissions significantly, and offset 76 % of the unavoidable ones with certified NGO projects active in Africa, especially for delegate travel. We also initiated a new partnership with ASCRS and AAO to start eyesustain.org, a global coalition of eye societies and ophthalmologists collaborating to make ophthalmic care and surgery more sustainable. 
In 2023, we are working together with interested parties to support our event participant's wellness, the local and global communities we visit and support, to protect and replenish affected ecosystems, and inspire more regenerative actions all round. 
We invite you to join us in this journey because we can achieve exponentially more positive impact together. 

Oliver Findl, ESCRS President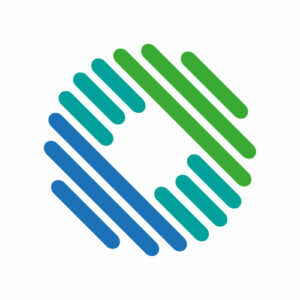 We have developed a plan to guide every event for its community, meetings, events and activities, and those of its host cities.
With the help of the GDS-Movement and the contribution of key members and partners, a two-year sustainability strategy was developed.
Our bold, operational action plan, Mission Zero, has 4 sustainability goals that inform our preparation, execution and reporting:
Inspire Action
Strengthen the promotions of the eyesustain.org initiative through partnerships with ASCRS and APACRS
Recruit at least 5 new organisations into the Sustainability Partnership Programme
Integrate YOFS to the sustainability activities of ESCRS
Extend the overall congress programme with new sustainability track sessions
Zero Waste
Eliminate 90% of single use plastic, polystyrene and PVC
Decrease waste sent to landfill to less than 15%
Increase recycling to +50%
+70% of all signage and branding to be made from more sustainable materials
Zero Emissions
+25% of delegates to arrive by climate friendly transport
+50% of food served is vegetarian or vegan
70% of food locally sourced (less than 160km)
100% of unavoidable carbon emissions to be offset
Socially Responsible
Increase balance of female speakers to 40%
Integrate at least 1 community/charity partnerships
Integrate wellness activities throughout congress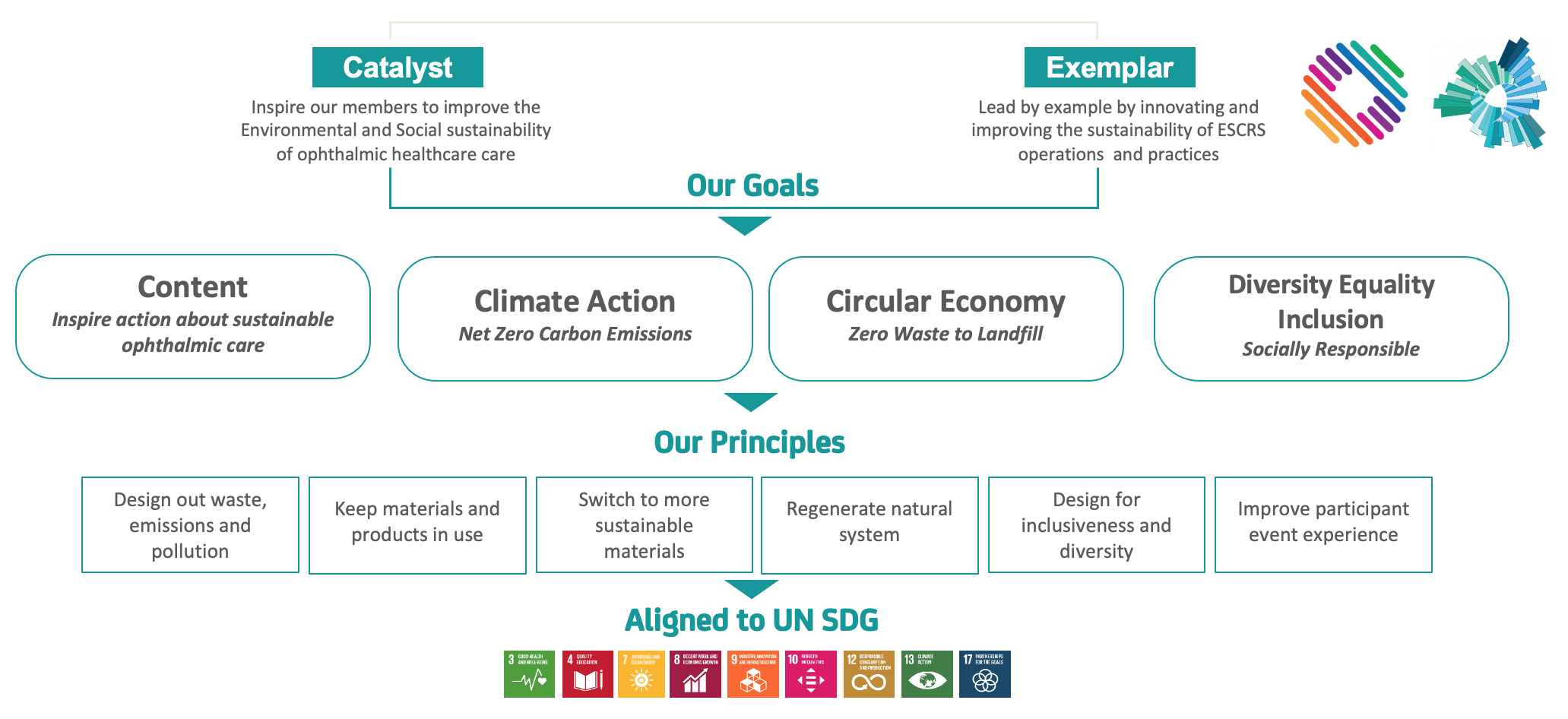 To achieve our goals, we have defined the following principles for the sustainable organisation of the congress:
Climate Forward with the 41st Congress of the ESCRS
When it comes to carbon, "emissions" is a dirty word, unless you use a clean approach to measure, mitigate and manage the greenhouse gasses that contribute to climate change. The ESCRS Mission Zero approach is guided by the principle of eliminating waste, pollution and emissions and our approach to this is threefold: measure, reduce, and offset for greatest effect.
We began in 2022, calculating the congress' s carbon and waste footprint using industry best practice methodologies and an advanced measurement tool called TRACE. This included emissions from local event production, delegate and team travel, accommodation, food & beverages, venue and online participation. The total carbon footprint was 15 875 tCO2e, and 1 250 tCO2e per attendee. This is the equivalent of 7 937.8 cars on the road for a year, or 79 377.7 tree seedlings grown for 10 years.
In 2022, 76 % of unavoidable emissions were offset with the purchase of carbon credits in three certified offsetting projects through Climate Impact Partners, a global leader in helping organisations to meet their ambitious climate goals. By investing in a portfolio of projects with a demonstrated track record, we ensured both notable emission reductions for our events, and social support for developing economies.
In 2023, we're sharpening our focus to raise our positive contributions significantly. The goal is to offset 100% of unavoidable carbon emissions of the 41st Congress of the ESCRS in Vienna through continuous offsetting. By estimating C02e for the upcoming congress and buying offset credits ahead of it, we can look our emissions in the eye. By combining this with our ongoing efforts to measure and reduce wherever possible, we can stare it down… to zero.
At present, we've purchased offset credits equivalent to 15 000 tonnes of CO2e. We will level out the total amount required to purchase based on our post-congress measurements.
To ensure integrity and longevity of a carbon credit project's contributions, the voluntary offset market developed standards similar to those used for organic food or fairtrade products.
Each project we supported was carefully vetted and selected for maximal positive impact.
ESCRS 2023 supports the following projects:
Gratitude to our community of climate supporters
We would like to express our deep gratitude to our Net Zero sponsors – Alcon and Zeiss – supporting ESCRS Mission Zero, without whom this event and its contributions to increasingly positive change would not be possible.
We would also like to say a very special thank you to every delegate who chooses to offset their individual carbon footprint by making a financial contribution at registration.
It takes a community to ensure continuous improvement and we are proud to have you all as special supporters of Mission Zero.
Confirmed sustainability sponsors and partners
"Alcon cares for our planet and helps create a more sustainable world so everyone can See Brilliantly and Live Brilliantly. Because we manufacture about 90% of our products internally, we are able to manage our environmental footprint through efficiency and optimization to reduce emissions, water, waste and chemicals of concern.
We applaud ESCRS for taking a bold stand for sustainability and encouraging exhibitors and attendees to do the same, particularly in the areas of carbon neutrality, landfill waste and caring for the local community first in Milan and now, Vienna."
"As a foundation-owned company, sustainability and business success are inextricably linked at ZEISS. Sustainability is also firmly anchored in the corporate strategy. The three focus topics climate action, circular economy and value for society have been derived from the Sustainable Development Goals (SDG), a global initiative set up by the United Nations.
ESCRS is actively striving to meet these goals set by the SDG with its Net Zero initiative. For ZEISS Medical Technology, we are proud to be a Net Zero partner and support the goal of making the ESCRS congress carbon neutral."
"Rayner's dedication to advancing sustainability throughout our business continues unwaveringly, with a focus on creating a healthier planet for generations to come. As the Healthy Break Partner Sponsor at the 2023 Vienna ESCRS, we take pride in furthering our sustainability efforts.
Embracing the paperless approach, our presence at this year's conference will exemplify eco-friendliness. Our booth sets a remarkable example, constructed from 92% recyclable or recycled materials, with 78% of its components being reused, all contributing to a positive impact on the environment."
Other suppliers and partners
To ensure a gustation experience that gratifies the planet as much as it does the palate, ESCRS Congress Vienna 2023 is proud to have secured the services of leading fine dining caterer, Gerstner, which shares its enthusiasm for positive impacts through discerning events and is certified with the Austrian Ecolabel.
The Austrian Ecolabel is evidence of environmental consciousness and social responsibility. It respects planetary boundaries and protects participants and staff members. It indicates a company committed to excellence both now and in the future that our children will inhabit.
Together, ESCRS Congress Vienna 2023 and Gerstner developed delicious menus and customised meals to help achieve the event's ambitious sustainability goals:
More than half of the food on offer is vegetarian or vegan, dramatically cutting the carbon emissions by cuisine as meat is responsible for around 15% of global greenhouse gas emissions that intensify climate change
No red meat is served, with the bulk of the meat on offer being white meat with a far lower carbon footprint than beef
70% of the food was sourced locally, within a 160km radius or less, saving heartily on the event's scopes 2 and 3 carbon emissions as suppliers travel shorter distances and refrigerate the food for less time than they would have if they were further afield
Additionally, 90% of single-use plastic like polystyrene and PVC is eliminated, dramatically reducing pressure on landfills and the event's overall emissions
What's your role in the ESCRS sustainability journey?
"It takes a village to raise a child" – African Yoruba proverb
Sustainability only works if we are all involved and working together. It's on each of us to find ways to take action in our own sphere of control, whilst using our influence, as small as it may be, to encourage, or demand, those with power to do something about it.
Our healthier, climate-friendlier approach to catering is based on our sustainability strategy.

To achieve the goals we've set for the 2023 congress, we worked with our catering team, Gerstner, to whom sustainability is a staple. Gerstner takes its responsibility very seriously and is ISO14001-certified, meaning its operations hold to an international standard for environmental management.

Gerstner is also MSC-certified – sourcing more sustainable fish.

The 41st Congress of the ESCRS will aim to serve food that is:

more than 50% vegan/vegetarian
70% locally-sourced (within less than 160km)

Got a taste for sustainable food? We encourage you to extend this practice to the rest of your Vienna experience outside of the congress and at home.
From ordering sustainable catering to offsetting your emissions, your commitment will help us to create a congress that supports both people and the planet. To support you, we have produced a sustainable exhibiting guide and a consulting support package to help you bring your corporate and personal sustainability values to life.
We encourage you to dramatically reduce both travel time and carbon emissions on the City Airport (CAT) Train. It takes you, non-stop, from the airport to the Vienna city centre in just 16 minutes.  

On board you can enjoy:

Personal assistance from CAT staff
Free, high-speed Wi-Fi
Complimentary electronic newspapers and magazines
Lots of luggage space
The latest news on flatscreens

Buying CAT Train tickets online is easy to do here. They are valid for 6 months from the date of purchase.

Top tip: add a City Ticket at the same time.

A City Ticket gives you access to Vienna's public transport for 24, 48, or 72 hours. Buying one at the same time as your CAT Train ticket means a seamless trip from the airport to Vienna, and hassle-free commuting on underground, suburban train, tram, and busses inside Vienna.

If you'll be returning to Vienna in the future, join CAT Bonusclub to earn points that unlock rewards.

Remember: when heading home from Vienna, your CAT ticket gives you a fantastic travel advantage thanks to the City Check-in service, exclusively available in the European region.

If you're flying with a participating airline, you can check your luggage in at the city centre terminal before you board the CAT Train. This hands-free perk means you don't have to think about your suitcases and so forth till you get to your next destination.
Did you know it's really easy to get to Vienna by train? 

When we say easy, we mean comfortable with a cleaner conscience. That's because shared public transit emits much less carbon (that increases climate change) than private transit, and rail travel is much more environmentally responsible than flying. When you choose comfort on a train to Vienna, you also vote for ESCRS by helping us reach our goal of 25% delegates arriving by climate friendlier transport!

So how does it work? There are lots of international and national train services offering trips to Vienna from other European centres. 

Try Sparschiene

Choosing  Sparschiene Österreich and Sparschiene Europa saves not only carbon tonnes, but euros. These affordable tickets can be booked to six months in advance.

Top Tip: book early to avoid disappointment. Ticket numbers are limited.

Take the Night train ÖBB Nightjet

Save carbon, cash, and time by travelling at night. You can get some serious shut-eye on your way to Vienna with ÖBB Nightjet. It travels from Hamburg, Berlin, Zurich, Basel, Rome, Venice, Amsterdam and Brussels.

Top Tip: For magnifique dreams, choose the Paris-direct option. 

Traveling from Germany? Das ist DB!

There are 19 direct, daily services to Austria with DB, or Deutsche Bahn. They include Munich, Berlin, Hamburg, Frankfurt, Cologne, Düsseldorf, Nuremberg, and more, plus many additional options with quick transfers.

Top Tip: save more with regular Sparpreis offers and the BahnCard by day and by night.

Travelling from Switzerland? You have choices!

You can travel direct from Zurich to Vienna with Schweizerische Bundesbahnen or Railjet. There are multiple trips per day, as well as transfer options from Switzerland's major town and cities.

Top Tip: Cut travel costs with Generalabonnement (GA) or Halbtax, which offer discounts for the Austrian portion of the route.

More European train services to Vienna
In Vienna, drinking water is so important, it's protected by the constitution so that it can be enjoyed by all, now and in the future. It is piped directly from freshwater springs in the Styrian/Lower Austrian Alps in the Schneeberg, Rax, Schneealpe and Hochschwab regions.

This pure, crystal-clear spring water is available throughout the city and, for your convenience and health, flows right into the complimentary water stations in the venue.

On its way to you, powered only by gravity, this water flows through hydropower stations to generate 65 million kilowatt hours of clean, renewable power for residents and visitors there. 

Enjoy Viennese water's clear appearance, silvery sheen, velvety-smooth consistency and sweet flavour with the certainty that its origins and journey make it good for you and for the planet.

If you attended ESCRS Congress Milan 2022, please support Mission Zero by bringing your reusable bottle along to enjoy this fresh, delicious water. You can also collect one at no cost at registration.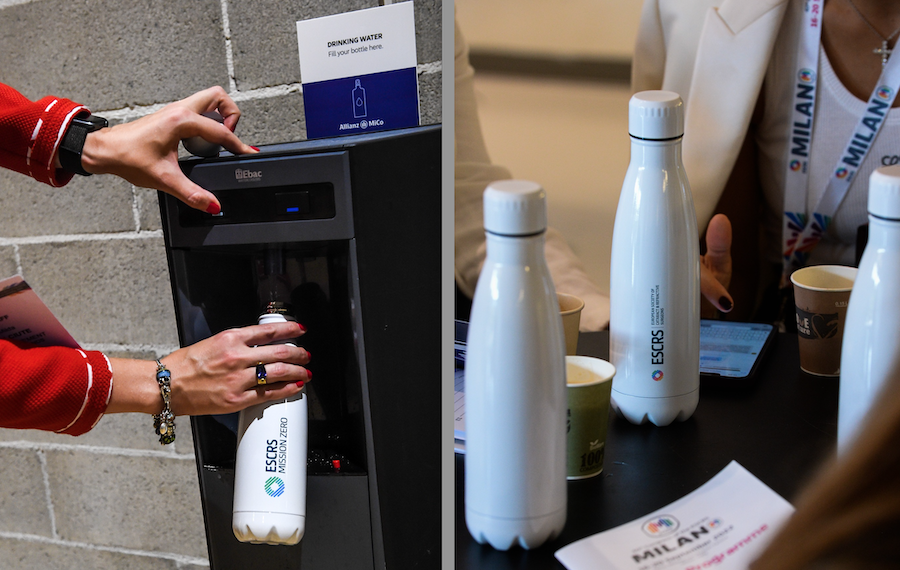 Sustainability results of the ESCRS Congress Milan 2022
Supported by suppliers, interested parties, and attendees, our annual congress in Milan last year actively contributed to the social, environmental, and economic wealth of the place, its people, and the planet.
Here are some of the 2022 Milan Congress's sustainability contributions:
Thank you for your role in helping us achieve the following:
Only 3.4% of waste was sent to landfill, 30.9% of waste was incinerated, and 64% of waste was recycled or re-used.
Leftover food was donated to Banco Alimentare-Siticibo, a charity working in Lombardy to encourage food security.
The congress's carbon emissions were measured using industry best practices and the TRACE tool. All possible reductions were made and 76% of the unavoidable emissions were offset with the purchase of carbon credits across three certified offsetting projects through Climate Impact Partners.
The event created a fully integrated sustainability track in its programme, with panel sessions and courses focusing on waste management.
A new partnership established with ASCRS and AAO to start eyesustain.org which is a global coalition of eye societies and ophthalmologists collaborating to make ophthalmic care and surgery more sustainable.
Access the ESCRS 2022 Sustainability Measurement Report
Until we meet in Vienna, you might want to know more about how we're developing these efforts. The ESCRS 2022 Sustainability Measurement Report is available to you – download it here or via the button below.
You might also appreciate Prof. Oliver Findl's thoughts on ESCRS Sustainability – watch the video below!