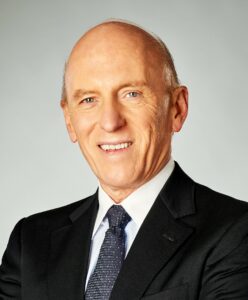 Corneal Regeneration: The Future of Corneal Surgery
Jorge L. Alió, MD, PhD, FEBOpthhal.
Lecture Date: Saturday 9 September 2023
Time: 10:30 – 11:00
Prof. Dr. Jorge Alió, has been Professor and Chairman of Ophthalmology since 1987, first at the University of Alicante and since 2002 at the University Miguel Hernandez de Elche, also in Alicante, Spain. Currently he is academically serving in Universidad Miguel Hernandez as Professor and Chairman of Ophthalmology and Director of the Iberia Biobank and Biodata created jointly with the funding of the National Network of Clinical Research (OFTARED, National Health Institute Carlos III), where he is the Coordinator of Eye Diopter Research. His clinical services as an ophthalmic clinician and surgeon are provided in Vissum Instituto Oftalmológico de Alicante (Founded by Dr Alió in 2004), now incorporated in Grupo Miranza.
He has been Graduate with Honors from Universidad Complutense, Madrid (1976). PhD, Universidad Autonoma de Madrid (with Honors & Award of the Spanish Society of Ophthalmology) and Ophthalmology degree in Universidad Autonoma, Madrid (1980), Postdoctorate Fellow at the Wilmer Eye Institute, Johns Hopkins University (1985-86), Assistant, Professor Universidad Autónoma, Madrid and Salamanca University (1976-83), Full Professor Universidad de Salamanca (1983-86), Professor and Chairman of Ophthalmology University of Alicante (1987-97) and finally Prof and Chairman Universidad Miguel Hernández de Elche, Alicante Spain (1997-present).
Since the beginning of his professional career, he has been vocationally involved in Ophthalmic Academic and Research activities in combination with an intense clinical and surgical practice. He has an extensive background of professional education in many areas of ophthalmology due to his academic career and the clinical responsibilities he has undertaken, including neuroopthalmology, ocular motility and strabismus, uveitis and intraocular inflammation and retinal surgery. However, his main dedication over the last 25 years has been to Cataract, Cornea and Refractive Surgery. As a clinician and ophthalmic surgeon, and has performed over 55.000 ocular surgeries during his surgical career.
In 1995 Professor Alió founded the Instituto Oftalmológico de Alicante, later on becoming Vissum Corporation, a large clinical company dedicated exclusively to ophthalmology and clinical research, with over 50 centres in Spain, and collaboration with international clinics. In 2019, Vissum was incorporated into Miranza, a large Spanish project including the most important clinical facilities in Spain, aiming to be a clinical reference in Europe in ophthalmology. Over all this time, Professor Alió has provided his clinical and surgical services from Vissum and now Vissum Miranza.
Throughout his career and arising from his clinical research activities, he has been the author or co-author of 710 peer review papers (World of Science peer review indexed international scientific journals), 410 book chapters, 99 books (as editor or co-editor), and over 2,114 presentations and invited lectures in international meetings. The Hirsch factor 2022 (h-factor) is 70 (Scopus) and 84 (Microsoft Academic). He has received over 100 international and national awards and recognitions and he actively collaborates in a number of Executive Boards and Editorial Boards of international scientific ophthalmological publications.
Prof Alió, academically also holds Chairs at the Academia Ophthalmologica Internationalis and the European Academy of Ophthalmology. He is also member of the American Ophthalmological Society (AOS) in which he was accepted with his second doctorate in Regenerative advanced therapies in Corneal Regeneration in 2019.
He has directed a total of 76 PhD doctorate university projects. He is the Founder and Director since 2016 of the online University Specialization Course 'Refractive, Cataract and Cornea Surgery' (University Miguel Hernandez) which involves 275 multimedia teaching activities in a 500 hour course at the acknowledged certified level of University Expert by the University Miguel Hernandez (Spain) and the ISRS/AAO.
As a clinical ophthalmic scientist, he was listed he has been acknowledged as the author with the highest impact factor in clinical research in the subject of Cataract over the last 5 years by The Ophthalmologist, February 2014, 2016, 2018. He was listed as the author with the highest impact factor in the field of keratoconus over the last 5 years by The Ophthalmologist, June 2014. Also, he was listed in the Power List as one of the 100 most influential doctors in Ophthalmology (The Ophthalmologist, 2014, 2016 and 2018). Prof. Alió has been recently acknowledged in 2019 by Expertscape (www.expertscape.com) as listed number 1 in scientific reference publications in Refractive Surgery, Cataract Extraction, Cornea, Anterior Eye Segment, Intraocular Lens Implantation, Ophthalmological Surgical Procedures, and number 2 in Refractive Errors, Visual Acuity, Laser Corneal Surgery, Laser therapy and LASIK.
In May 2022, Professor Alió has entered into the group of the 1000 Top International Scientists in the field of Medicine by Research.com, a prominent academic platform for scientists. He has been ranked #89 in Spain (https://research.com/scientists-rankings/medicine/es) as well as #7077 in the world ranking (https://research.com/scientists-rankings/medicine) using the H-index data gathered by Microsoft Academic and includes only prominent scientists with an H-index of at least 70 for scientific papers published in the field of Medicine.
He has recently been promoting and involved in the emerging topic of Corneal Regeneration, conducting the first worldwide clinical trial for the treatment of corneal dystrophies and particularly Keratoconus with autologous mesenchymal stem cells, publishing a series of important scientific papers on this innovative type of corneal surgery.
Concerning humanitarian services, he is the Founder of the Foundation that bears his name, dedicated to the promotion of the prevention of blindness which carries out its activities both in Spain and on international levels, particularly in Mauritania where a Center for Sight (UBASO) was created in 2010. Since 2018 to the present moment this project evolved into the Nouadhibou Vision Project/Fundacion Jorge Alio Foundation, offering humanitarian ophthalmic services in the only Eye Center existing so far in Mauritania. He is the Honorary President of the patient's association for the assistance of the visually handicapped 'Acción Visión España' and has been also involved and is today active in many social national and European civilian organisations.
Prof Alió is member of Rotary Club International. He has been twice President of the Rotary Club of Alicante and has received 4 times the Paul Harris Rotarian Fellowship award and the "Llama Rotaria Award" for distinguished services.
He is married to Maria Lopez and is father of 4 children, one of them also an MD PhD academic and clinical Ophthalmologist.
---
MAIN AWARDS AND RECOGNITIONS
Arruga Award (Sociedad Española de Oftalmología, 1990)
Rayner Medal (UKIRS, 2002)
2 Kelman Awards: Hellenic Society of Intraocular Implant and Refractive Surgery HSIOIRS, (2003) / (Videocataratta Refrattiva, Milan (2008)
The Strampelli Award (Italian Refractive Surgery Society IRSS, 2007)
Senior Achievement Award and Secretariat Awards of the American Academy of Ophthalmology (AAO) (2008)
2 Barraquer Awards (International Society of Refractive Surgery/American Academy of Ophthalmology ISRS/AAO, 2009/Keratomileusis Study Group KMSG, 2010)
Guillermo Pico Award (Sociedad Puertorriqueña de Oftalmología SPO, 2009)
Torchbearer Award (Corneal Research Foundation CRFA, 2010)
Lifetime Achievement Award (International Society of Refractive Surgery/American Academy of Ophthalmology ISRS/AAO, 2012)
Waring Medal (Slack inc., 2012)
Boberg Ans Award (Danish Ophthalmological Society, 2012)
Presidential Award of the (International Society of Refractive Surgery/American Academy of Ophthalmology ISRS/AAO 2015)
Asia Pacific Academy of Ophthalmology APAO Achievement Award 2016
Joseph Colin Award, American-European Congress of Ophthalmic Surgery AECOS 2016
American Academy of Ophthalmology Lifetime Achievement Honor Award (2018)
National Research Award Alberto Sols (Spain, 2019)
Fukala Lecture (Poland, 2021)
Innovation Award, Videocatarattarefrattiva, (Milan, 2022)
Gold medal of the Intraocular Implant and Refractive Society of India (IIRSI), (Amritsar, India, 2023)
---
MAIN INTERNATIONAL SCIENTIFIC SOCIETIES COLLABORATIONS
International Ocular Inflammation Society (IOIS): Founder, General Secretary and Chairman
European Society of Cataract and Refractive Surgery (ESCRS): elected Board Member twice in two different terms
American Academy of Ophthalmology (AAO), through International Society of Refractive Surgery (ISRS): General Secretary (2003-2006) and President (2006-2008)
World Ophthalmology Congress (WOC): Executive Board in two terms
European Vision Institute (EVICR.net): Founder and Board Member since its creation in 2006
Academia Ophthalmologica Internacionalis Chair LXIII since 2008
European Academy of Ophthalmology Chair XLIX since 2009
European Executive Committee American-European Congress of Ophthalmic Surgery (AECOS) since 2013
Member of the Royal Academy of Medicine of the Valencian community (RAMCV) since 2015
American Ophthalmology Society. Elected member in 2019